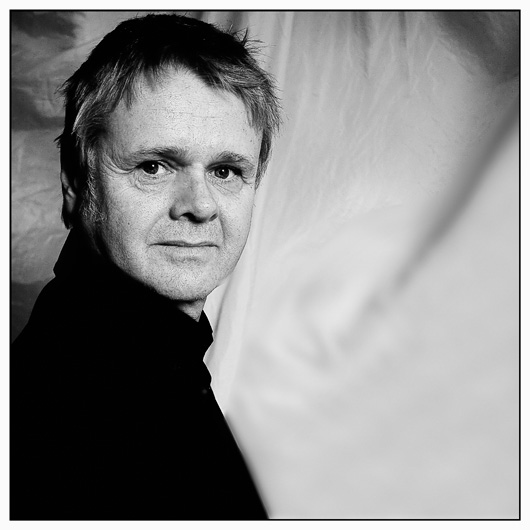 Sturla Gunnarsson is a Canadian screen director whose work moves fluidly between fiction and non-fiction. His feature films, TV drama,  comedy and documentary films have received dozens of awards, including an Emmy, the Prix Italia, multiple Canadian Screen Awards and Directors Guild Awards and an Oscar© nomination.
Recent work includes multiple episodes of the hit CBC/Netflix comedy, Schitt's Creek, and the acclaimed Montreal police drama, 19-2; as well as directing and co–executive producing the pilot and multiple episodes of the CBC's Street Legal reboot.
Gunnarsson was born in Reykjavik. He left Iceland at six for Vancouver, where he grew up.  He studied at the University of British Columbia, and completed an undergraduate degree in English Literature and the Masters Film/Theater program.
His first film was nominated for an Oscar. After the Axe, a genre-blending docu-fiction about a corporate hit man and the executive he's hired to terminate, made for the National Film Board of Canada, was nominated in the Feature Documentary category at the 1982 Academy Awards. His next film,  the cinema verite classic, Final Offer, about the landmark GM Canada strike that led to the breakup of the United Autoworkers Union,  won the Canadian Academy Genie Award for best feature documentary in 1985, and was selected as one of the 'top ten of the decade' by the International Documentary Association.
Gunnarsson moved into drama, directing seminal Canadian television series including The Beachcombers (1989), North of Sixty (1993), DaVinci's Inquest (2003), Intelligence (2006) and Degrassi (2008-2011), as well as television movies including: The Diary Of Evelyn Lau (1994) for which Sandra Oh's stunning debut performance won her the Best Actress Award at the Cannes Television Festival; Scorn (2000) and 100 Days In The Jungle (2002), which both won Canadian Academy Gemini Awards for Best TV Movie, and the CBS classic, The Man Who Saved Christmas (2002).
Returning  to documentary filmmaking Gunnarsson went to South Africa to film the Truth and Reconciliation Commission,  The result, Gerrie & Louise, is a darkly fascinating film that explores unlikely marriage between a one-time apartheid hit-squad commander and the investigative reporter who exposed him. Described by The New Republic's Stanley Kauffmann as "the gripping account of a journey through delusion to enlightenment", Gerrie & Louise won the 1998 International Emmy Award for best feature documentary
In 1998, Gunnarsson was invited to adapt Rohinton Mistry's Booker Award shortlisted novel of Such A Long Journey. Working with screenwriter Sooni Taraporevala, Gunnarsson created a rich, deeply humanistic film  set in Bombay on the eve of the 1971 India-Pakistan war, about a Parsi bank clerk who's drawn into a world of intrigue out of loyalty to an old friend.  Starring two generations of Indian acting royalty, including Roshan Seth, Om Puri, Naseeridan Shah, Irfan Khan and Soni Razdan, the film resonated in both India and the West. The Times Of India declared, "it's not exotic, it's Indian", British Film Review described it as "a modern masterpiece", while Roger Ebert wrote "Such a Long Journey, filmed on location in Bombay, is a film so rich in atmosphere it makes Western films look pale and under populated. It combines politics, religion, illness and scheming in the story of one family in upheaval, and is very serious and always amusing." Such A Long Journey was one of the top grossing Canadian films of 1999 and nominated for 12 Canadian Academy Awards.
Subsequent feature films include the comedic drama, Rare Birds, starring William Hurt, Molly Parker and Andy Jones, described by Roger Ebert as "a sweetheart of a film, whimsical and touching"; and Beowulf & Grendel, a revisionist adaptation of the Old English epic poem, starring Gerard Butler, Stellan Skarsgaard, Sara Polly and Eddie Marsan, which was reviewed by the Toronto Star as "a successfully strange and strangely moving adventure", and by the Village Voice as ""good, bloody fun that stirs the intellect whenever it feels like it."
Recent documentary films include: Air India 182, which opened the 2008 edition of Hot Docs and was reviewed by Canadian Press as "a movie so gripping and suspenseful in its retelling of a large-scale tragedy that it frequently seems like a tautly written drama";  Force Of Nature, a biographical film about Canadian scientist and environmentalist David Suzuki, which won the TIFF People's Choice Documentary Award in 2010, and Monsoon, which won the 2015 TIFF Top Ten Audience Choice Award.
In 2008, Gunnarsson was elected National President of the Directors Guild of Canada, a position he held until 2014.  
Gunnarsson is currently developing an adaption of Wade Davis' epic masterpiece, Into The Silence: The Great War, Mallory, and the Conquest of Everest, and Sky Pilot, a speculative documentary about the science fiction writer Phillip K. Dick.
SELECTED FILMOGRAPHY
SERIES TELEVISION
RANSOM (4 episodes 2019/2018) CBS 
STREET LEGAL  (Director / Exec Producer, 3 episodes 2018/2019) CBC
19-2 (7 episodes 2016-17) Bravo/Bell
SCHITT'S CREEK  (5 episodes 2017)  CBC/Netflix
THE ART OF MORE (2 episodes 2017) Sony/Crackle
MOTIVE (10 episodes 2012-16)  ABC/CTV/NBC-Universal
THE FIRM (2011)  NBC-Universal
DEFYING GRAVITY (3 episodes 2009)  ABC/CTV/NBC-Universal
DEGRASSI (14 episodes 2007-2010)    CTV/The N
INTELLIGENCE (2 episodes 2006)    CBC
DAVINCI'S INQUEST (2004)    CBC
FEATURE FILMS
ICE SOLDIERS 2013 Sony Pictures.  Dominic Purcell, Adam Beach, Michael Ironside
BEOWULF & GRENDEL  2006  Arclight/Equinoxe Releasing.   Gerard Butler, Stellan Skaarsgard, Sarah Polley.
RARE BIRDS  2001 Lions Gate Releasing.   William Hurt, Molly Parker, Andy Jones.
SUCH A LONG JOURNEY  1998 Red Sky Entertainment/The Shooting Gallery. Adapted from on the Booker shortlisted novel by Rohinton Mistry.  Roshan Seth, Om Puri, Naseerudin Shah
DOCUMENTARY FILMS
MONSOON  2015  ARTE/CBC   A reflection on chaos, creation and faith in the land of believers, filmed over the course of an Indian monsoon. TIFF Top 10 Audience Choice Award-winner
FORCE OF NATURE  2010 E-1 Entertainment/NFB/CBC.   Biographical film about iconic Canadian scientist and environmentalist David Suzuki. TIFF Documentary Audience Choice Award-winner
AIR INDIA 182  2008 52 Media/Eurasia Motion Pictures, CBC Non-fiction thriller about of the conspiracy to bomb Air India flight 182 and the intelligence operation that failed to thwart it. Hot Docs opening film, 2008,
GERRIE & LOUISE  1997 CBC/CNN. A darkly fascinating film that explores unlikely marriage between  a one-time apartheid hit-squad commander and  the investigative reporter who exposed him. International Emmy Award, Best Feature Documentary.
FINAL OFFER  1984 National Film Board of Canada/CBC   Cinema verite classic about the backroom brawl between Canadian and American leaders of the United Autoworkers Union that led to the breakup of the union, set during the historic UAW/GM strike.  Canadian Academy Genie Award-winner, Best Feature Documentary.
AFTER THE AXE  1982 National Film Board of Canada/ CBC   Genre-blending documentary about  a management consultant and the executive he's hired to terminate. Academy Award © nomination, Best Feature Documentary.
TELEVISION MOVIES
100 DAYS IN THE JUNGLE   (2002) CTV. Canadian Academy Gemini Award winner, Best TV Movie. Shot in Central America and based on the true story of eight Canadian oil-patch workers who were kidnapped by Colombian rebels and marched through the Ecuadorian jungle for 100 days, and the negotiations that led to their release.
THE MAN WHO SAVED CHRISTMAS   (2002) CBS. Based on the life story of toy inventor A.C. Gilbert. Starring Jason Alexander, Kelly Rowan, Ed Asner.
SCORN (2001)    CBC. Canadian Academy Gemini Award, BEST TV MOVIE.  The true story of a seventeen-year old high school student whose obsession with the Roman emperor Caligula fuels a delusional conspiracy to murder his mother and grandmother. Starring Eric Johnson, Kelly Rowan.
RICKY NELSON:ORIGINAL TEEN IDOL   (1999) VH-1 Biopic of rock idol and TV star, Ricky Nelson. Starring James Sheridan, Gregory Kalpakis Sara Botsford.
JOE TORRE: CURVEBALLS ALONG THE WAY (1997) Showtime   Biopic of New York Yankees manager Joe Torre, culminating with the Yankee's 1996 World Series win. Paul Sorvino, Robert Loggia.
WE THE JURY   (1996)   USA Network   Feminist redux of the courtroom classic, 12 Angry Men. Starring Kelly McGillis, Lauren Hutton, Christopher Plummer.
MOTHER TRUCKER   (1996) CBC/TNT True story of Dianna Kilmury, the feisty female truck driver who helped fight corruption and mobsters in the International Brotherhood of Teamsters. Starring Barbara Williams and Nicholas Campbell. Canadian Academy Best Actress Gemini for Barbara Williams.
THE DIARY OF EVELYN LAU        (1993)      CBC   Adapted from the bestselling 'Runaway: Diary of a Street Kid', chronicling the Vancouver author's life as a teen poet/prostitute. Featuring a fearless debut performance by Sandra Oh. Cannes Television Festival Best Actress Award.