I'm standing on a mountain pass, looking out over a glacial river delta on Iceland's south coast. Looming behind me is the Myrdalsjokull, an immense glacier shrouding an active volcano. It is the most beautiful, primordial landscape I've ever seen — which is why I picked it as the main shooting location for Beowulf & Grendel.
I want the landscape to take a lead role in my new film, but I didn't bank on a delayed start date. The shoot is taking place during the stormiest autumn in 60 years. And with wind gusting at 160 kilometres an hour, the line in the script "Odin gets drunk, wrecks the house," nearly comes true.
I watch as a black volcanic sandstorm approaches, threatening to obliterate the set — a sixth-century mead hall — behind me.
"It's getting a little breezy," first assistant director Wendy Ord shouts. "We've lost eight vehicles to flying debris, the roads to the east and west have been closed, and the roof just blew off the hotel next to ours at the base of the mountain. If we lose the mead hall, we're done."
If you attended a premiere screening of Beowulf & Grendel last night, you know the mead hall survives, and that the film transports viewers to a fantastic realm of glacial deserts, haunted valleys and icy lagoons. What you might not know is that none of the scenery is computer-generated — they're all real locations in my native land.
Despite their rugged appearances, all these locations can be toured comfortably via the paved highway that circles Iceland. But you'll need a four-wheel-drive vehicle to take it all in, as the real magic lies off the highway, not just in the scenery, but also in the welcoming villages and farmsteads along the way.
You'll arrive by air in Keflavik, 50 kilometres north of Reykjavik. Once you've had your fill of the capital city's indie music clubs, museums and art galleries, kick off your Beowulf & Grendel tour by heading east on Highway 1. (There's only one highway in Iceland, so you won't have trouble finding it.)
At first, you'll drive through miles of eerie petrified lava fields, and you'll begin to understand why Icelanders believe the landscape is alive with trolls and huldufolk (invisible people). About an hour past the city, you'll reach the sea, and begin your journey through Suderlandid (the Southlands). This region is the home of the epic Icelandic sagas, and there is not a rock, knoll or crag that doesn't have a story (with the exception of a boulder near the village of Vik, which is known as "the rock without a story").
After another half-hour, you'll see a road leading to Skogafoss (the Forest Waterfall, though there is no forest). This is where the Celtic priest, Brendan, baptizes the pagan converts in the film. It is a magnificent, mist-drenched cascade, with a set of stairs off to the side where you can climb to the top.
Before you reach Vik, you'll find the turnoff to Eyjafjallajokull (the Island Mountain Glacier). A half-hour drive through moraines takes you to a lodge where you can arrange a glacier tour via ATV and Ski-Doo on the same slab of ice where Beowulf and his men track Grendel on-screen. All this, as Beowulf says, is "out of our world."As you approach Vik on the main road, you'll see the towering cliffs of Dyrholaey (Dune Door Island), where Beowulf and his men land at the start of their quest, and where Grendel cuts off his father's head. Between the main road and the coast is the area we called Selmaland, where the witch played by Sarah Polley lives. It's an enchanting little ecosystem — black sand dunes are dotted with wildflowers, and sedimentary rocks form miniature wind-sculpted badlands.
Once you arrive in Vik, warm up with a pot of hearty soup and homemade bread at Haldor's Café. Drive another 15 minutes and you'll arrive at the opening of Kerlingardal (Old Woman's Valley), the numinous dell in which we shot much of the film.
We based our production at Hofdabrekka (Bute Hill), a farm and guest house at the base of the valley. The proprietor, Johannes Christjansson, played host to our cast and crew. If you're lucky, the Christjanssons will prepare some local delicacies for you: smoked trout and salmon from the nearby river, smoked lamb from the surrounding hills, wind-dried haddock and, if you're feeling adventurous, boiled sheep's head, hakarl (rotten shark meat) and horse carpaccio. Chase it with some brennivin, an anise-flavoured grain alcohol.
Across the river is another property called Fagradal, which is well worth a visit, to see what a 21st-century Icelandic farm looks like. The farmer, Jonas Erlendsson, is entirely self-sufficient, with electricity generated by the river, satellite Internet, sheep grazing in the valley and a trout farm. Mr. Erlendsson is also an accomplished photographer whose work was been published internationally. Ask him to show you his dazzling images of the northern lights, take home his smoked lamb or trout, or request a custom-knit Icelandic sweater made by his wife, Ragna.
The drive up the valley takes you to a plateau where the earth has been scraped clean and cracked open by the receding glacier. This is where we built Herot, the giant mead hall that Grendel comes to terrorize (it is still standing today, despite Odin's drunken rampages).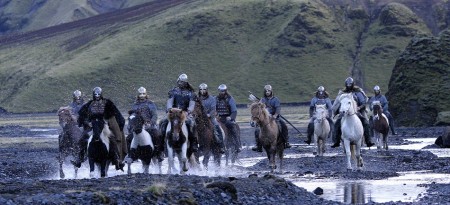 From here on, you're heading into what we called Grendel Valley. You're truly on your own — with the exception of the road, there are no signs of human habitation. If you smell sulphur, the volcano is stirring. If you see smoke, turn around.
As you descend into the valley, you'll cross a couple streams and the road will disappear. This is the blood trail that Beowulf and his warriors follow while tracking Grendel. Eventually, you'll reach the end of the trail: a small meadow surrounded by caves. In one of them, I saw carvings, kind of an early graffiti, made by a shepherd while waiting out a storm in 1808. The meadow narrows to a canyon, which is worth a hike. You'll find a waterfall and cliffs with hundreds of birds circling in the thermals.
When you've had enough of Kerlingardal, continue east on Highway 1 across the black sands. In three hours or so, you'll reach Jokulslonn (the Glacier Lagoon), the iceberg-chocked passage Beowulf sails through on his way to Daneland. Jokulslonn is a giant aquamarine lagoon that Vatnajokull (the Water Glacier) fills with calving icebergs. Stand quietly at the edge of the lagoon and you can hear the eerie sound of the ice. Taste a piece of it — the last time it was liquid, Beowulf and Grendel had yet to meet.
An hour east of Jokulslonn in the fishing town of Hofn, you'll find a couple of good hotels and, when in season, some incredible scampi. Hofn is surrounded by black clay flats that fill up with ocean, sea trout and fishing nets at high tide. This is where we built the Geat meadow where Beowulf and his men receive their king's blessing.
This is as far as our crew ventured. From here, a day's drive will take you back to Reykjavik. Or, you can continue along Highway 1, and create your own epic adventure.
Special to The Globe and Mail